Actress Phylicia Rashad Named Dean of Howard University's College of Fine Arts
Howard University has hired a well-known actress and stage director to serve as the dean of the school's recently reestablished College of Fine Arts.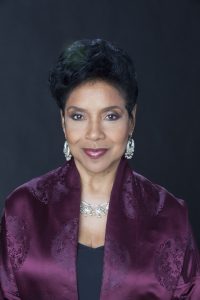 Phylicia Rashad
Phylicia Rashad, 72, who played Claire Huxtable on "The College Show," will begin her post on July 1, 2021.
Rashad who graduated magna cum laude from Howard in 1970 with a Bachelor's of Fine Arts degree will undoubtedly catapult the school's theater and directing programs—which has a reputation of producing actors like the late Chadwick Boseman—to greater heights.
"I can think of no one individual better suited to take on this role than Ms. Phylicia Rashad," said Howard's president, Dr. Wayne A. I. Frederick. "Given Ms. Rashad's reputation as well as her capabilities and impressive lists of accomplishments, she will undoubtedly empower the college to transcend even our incredibly high expectations. Under her leadership, Howard will continue to inspire and cultivate the artists, and leaders who will shape our niche and national cultures for generations to come."
While it's rare to see actors take on administrative roles at colleges and universities, it is not unprecedented. Actor Clifton Davis, who starred in such television shows as "Amen" and "That's My Mama," served as vice chancellor for development at Elizabeth City State University in the early 2000s.
Experts predict that Rashad's visibility on campus will undoubtedly help the university maintain its connection with the acting community, while also helping to secure deep philanthropic gifts from weathy donor.
"It is an honor to welcome one of Howard's acclaimed daughters back home to Alma Mater," said Dr. Anthony K. Wutoh, the university's provost. "In this full circle moment, Ms. Phylicia Rashad will take the training and skills that she honed as a student at Howard and exuded in an outstanding performing career, and she will share those pearls of wisdom with the next generation of students in the College of Fine Arts. Her passion for the arts and student success makes her a perfect fit for this role," he added.
In a versatile career that has spanned more than four decades, Rashad has been recognized with a Tony Award, an NAACP Image Award and induction into the Theater Hall of Fame. She is the recipient of numerous honorary doctorates from mostly historically Black colleges and universities including Howard, Spelman College, Tuskegee, St. Augustine College, Clark Atlanta and Morris Brown College.
But it was her role as Claire Huxtable, the tough and loving mother and lawyer on "The Cosby Show" that introduced Rashad to millions of viewers in the 1980s. Thanks to reruns of the show across the years, a new generation of students have become familiar with the sitcom.
Academia is not entirely new to Rashad. She has served a guest lecturer and adjunct faculty member at a number of colleges and universities, including Howard, New York University and Julliard and was the first recipient of the Denzel Washington Chair in Theater at Fordham University.
"It is a privilege to serve in this capacity and to work with the Howard University administration, faculty and students in reestablishing the College of Fine Arts," said Rashad.
On Wednesday, Spelman College, an HBCU in Atlanta, announced that it was naming its arts center after actress LaTanya Richardson Jackson and her husband, actor Samuel L. Jackson. LaTanya is an alumnus of Spelman and Samuel L. Jackson is a graduate of neighboring Morehouse College.
"The love that both Latanya and Sam continue to exhibit for Spelman since their time on stage decades ago is heartwarming," said Dr. Mary Schmidt Campbell. "These living legends met and acted together on stage on our campus. Their dedication to their artistry will leave a legacy that will inspire students in the Atlanta University Center for years to come."
Walter Hudson can be reached at This email address is being protected from spambots. You need JavaScript enabled to view it.
Read more: https://diverseeducation.com/article/214664/